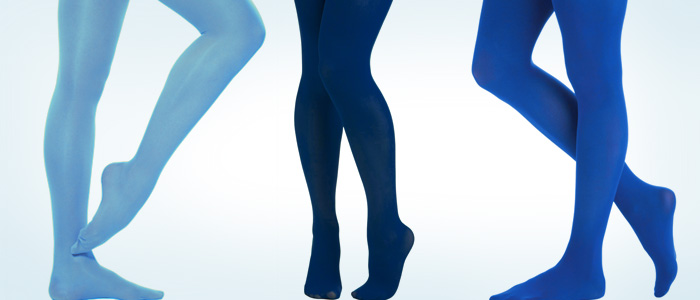 Want to experiment with colored tights but you aren't ready for the bold yellow or red?
Blue tights might be the perfect place to start from! From navy blue to bright or electric; blue tights are the easiest to mix and match after black. They have a perfect fall vibe that make them an incredibly versatile accessory and they move right along into winter as well.
If you are on the fence about colored tights then start with navy blue, this tone of blue allows you to wear black shoes and combine it with almost any color in the color wheel. According to the NY Daily News Style section celebrities such as Taylor Swift have been displaying this color hosiery on the streets, and designers like Ruffian, Michael van der Ham, Betsey Johnson and Marc Jacobs have incorporated this low­temperature accessory into their collections.
The safest way to wear blue tights is choosing a monochromatic ensemble, monochromatic can be a bit safe but it can also look amazing if you go for hues that work well with each other. Pale blue tights with a navy dress, or navy blue tights with a pale blue dress. Most colored tights don't work that well with black basics but navy blue can work, just stay away from the pale blue and black match. Keeping your tights as the only color section in your outfit isn't flattering, it works best the other way around (black tights­colored outfit). Blue tights can also be fantastic for color blocking, match them with a solid color piece and shoes that match the tights not the piece and you will have a striking fashion­forward look.
Remember that picking the hue and weight of the tights can either make you or break you, as Fashionisers explains, colorful options visually widen your legs, so if you want to slim your legs you need to pick the darker shades of blue and keep the pale blue for other pieces and if the tights match exactly with the tone of your shoes, this will again elongate your legs.
Navy blue looks great with red, white and cream. The lighter tones look best with a darker tones in the same palette or similar ones like mint. If you are going for a print dress or skirt then make sure one of the colors of the print is the same blue as your tights so your outfit is consistent and offers a fluid silhouette. Most importantly don't let the item wear you, you have to wear the item, if pale blue doesn't feel like you then opt for dark blue and if you are a bright style girl and love color in every presentation then play around with it, experiment, try patters and different weights whilst still keeping this tips in mind and always flattering your body, knowing your proportions and and what makes you feel best.
Fall and winter are the seasons for layering so don't let the low temperatures intimidate you and allow it to work to your advantage! Wool dresses will keep you cozy while still rocking some bright tights. Let the inspiration flow and mix and match until you find the right combination for you and your style, it's all about practice and trying things out to find new styles and outfits that accommodate your look and day to day activities.
So don't push those skirt to the end of the drawer just because the temperature are getting low, see it as an opportunity to start a beautiful tights collection in your preferred palette!­­