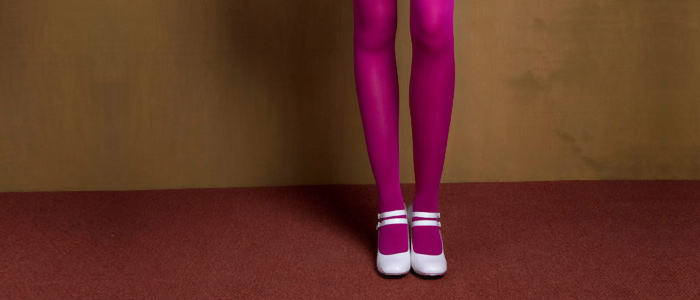 How to Wear Magenta Tights
Bright colored tights can be tricky. The bold colors intimidate most of us and with good reason. Bright colors like magenta will make you instantly stand out, causing your legs to be an undeniable focal point, this may sound like a big commitment but it can be good, no, not good, beautiful! as long as you know how to rock them. Dedicate a tad of time to thinking about how to combine your pieces – magenta tights included – and you can make an amazing look.
Magenta is one of the prettiest colors in the color wheel, it's flirty, feminine and the perfect hue to make any outfit pop. It's not a pale color, so you won't have to worry about your legs looking wider than they really are and it's one of those colors that most of us have on our wardrobe making it one we are already familiar with when playing mix and match, so translating it into a tights presentation can be easier than you think.
As mentioned in She Knows, your colored tights should complement, not clash, with your outfit. When looking at the color wheel magenta takes us through fucsia, purple, violet and finally blue and in the opposite way it goes from blue-red to red to orange, so this might be the best palette to work with if your are not a huge fan of opposites and love color-blocking.
Remember the basics, with colored tights it's best to match your shoes to your tights to elongate your legs, or go with a similar tone if magenta shoes aren't yourt hing and try to stick to the heels or wedges —another big tip She Knows suggests to keep those legs endless.
Blue and red are the best bet when matching different colors to your magenta tights just keep them on the low-key, no neon or huge prints because it won't be a flattering look. Magenta tights can work with black shoes but preferably if the design is ombre or if the magenta is violet based instead of red.
Also, a great and more than original way to wear your tights is to use them under a sheer pair in a neutral color like this blogger who creates a subtle wash down effect which matches her print dress to the dot, but you can even make an ombre depending on the style you wear on top, it's all about experimenting. Another look is to wear them under your ripped jeans, this technique will keep your legs warm and create a cool girl flair if you opt for low-cut kind style jeans in a light hue.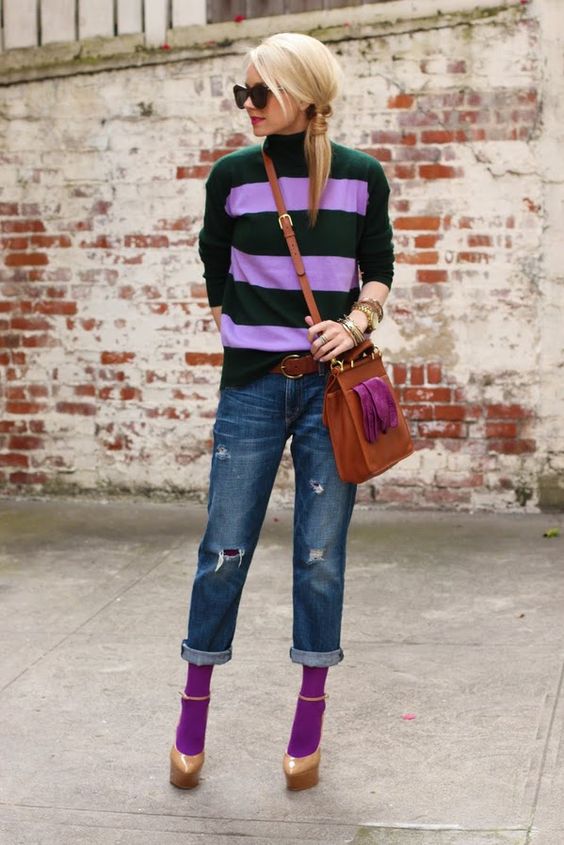 The dashes of color here and there will definitely make you look like a stylish pro. If you want to rock the textures then wear them under a pair of lace tights, as long as you keep the rest of your outfit simple this can really be a fantastic combination, and can make a day look turn into a night one if the lace tights are on the darker hue. Want a touch of romantic? then go for a floral lace and match it with your dress or skirt, a simple layer game that makes your tights look like whole new pair.
And of course there is always our magenta-black ombre tights with a simple black dress.
Remember that colored tights can turn any outfit into something special when paired correctly, magenta is one of the best colors, enjoy it! Step out of your comfort zone and try something new now that the temperatures are dropping and tights are well welcome for different occasions, creating beautiful ensembles and keeping you cozy in your booties.