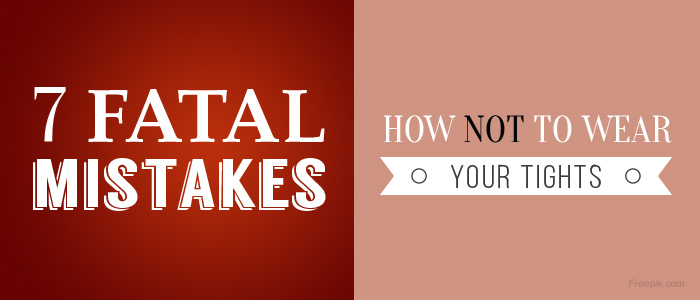 7 Fatal Mistakes: How NOT to Wear Tights
The best thing about spring and fall is the weather being ideal for wearing tights: it is neither too hot nor too cold. But should caution not be used when choosing your outfit, you can get it all wrong.
We share the 7 biggest mistakes we have seen on the streets, so you will NOT have to repeat them. So how not to wear tights:
1. Wrong fit
Know your own size. Don't buy tights that are too big or too small, not even if the sale is crazy or they are the last pieces and you really like them. If they are too big they are going to slip down and pile up around your ankles, looking awkward. If they are too small they don't stay on your hips, and you have to keep pulling them up. A wrong size can ruin your whole outfit and your whole day goes down the toilet with it.
2. Tights, leggings, trousers (pants)
They are definitely not the same. We bet you have already seen some girls wearing sheer tights (pantyhose) with colorful underwear. That is not a sight anyone would wish to see.
Don't make the same mistake!
Even if your body is perfectly toned and you can wear anything, it is still important to know the difference between tights, leggings and trousers.
Tights: They come with or without the feet part. They become transparent when stretched. There are control top tights and tights without reinforcement on the thighs. Wear them with skirts or shorts.
Leggings: They have seams on the sides and they are made of thicker materials that are not see-through. You can wear them without shorts or skirts but it is recommended to cover your bottom with a long t-shirt, sweater or a shorter dress.
Trousers (pants): These probably don't require further explanations.
Have a look: Tights are not pants (on Tumblr)
3. Flashing is NOT sexy!
Do you own tights with a thicker upper part that looks like a little short? This is the push-up of tights, designed to hold your thighs together and lift up your bottom. It is a little secret not to be advertised to others, so never forget to cover this part. Even if you wear it with miniskirts or shorts, your "boxer brief" cannot be seen, not when standing in front of the mirror, not when you walk around or sit down. Flashing it is not classy at all.
If you own tights with patterns that look like garters (like you were wearing stockings with suspenders), you can show them off a little under your skirt, but don't fall into an extreme. A little flashing can be sexy, but too much flashing should always be avoided.
4. Patterns
If your legs are thick, don't wear big patterns. The bigger the pattern, the thicker your legs will seem. Smaller patterns look good on everyone, but huge patterns can turn even a fragile body into something much bigger.
5. Don't wear rings with sharp edges and bags made of coarse materials
If you want to protect your tights, wear accessories that cannot harm them. Murphy has told you so: the more attention you pay to wearing a stone ring the more probable it is that you will ruin your tights with it.
If you really want to wear your favorite rings or bags, than take some spare tights with you.
6. Fishnet tights
Wearing fishnet tights can be tricky.
They can be sexy or vulgar; the difference lies in the presentation.
If you wear them with elegant pieces, pencil skirts and knee-long or longer dresses, they can be really sexy.
Wear them with miniskirts, sheer tops and short shorts, and you will find yourself on the dark side.
7. DO NOT wear torn tights!
We know that accidents happen.
We know that sometimes torn tights can look sexy.
We know that even big stars wear them from time to time.
In everyday life though, they look disheveled and unladylike. If you have a taste for a rough look, try to wear it in the privacy of your home.
It is not enough to put on high quality tights, you also have to know how to wear them (and how not to wear tights). They transform your appearance, can make you look sexy, sultry, muted or even mumsy. Apart from the 7 points listed above, we have some other small tips, but more on that later 🙂
If you keep these 7 things in mind, you are fairly safe.
Click here if you want to know how to make your tights to last longer.