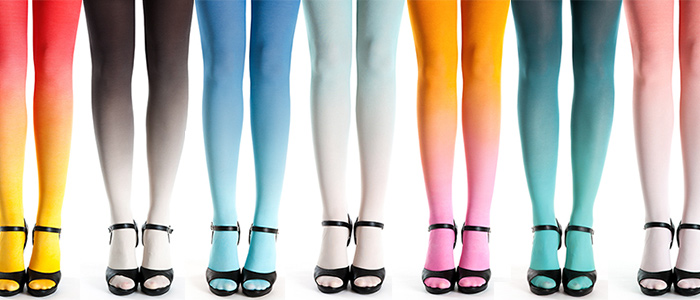 Let us show some simple tricks about how to wear ombre tights in your daily life
If you are brave:
You would put on your chartreuse sweater with orange accessories without hesitation on a rainy Wednesday morning? You like colors, and pair lilac with yellow, red with pink, blue with green as you please?
 Then Virivee's ombre tights are just your thing!
We think you shouldn't worry; you will find the clothes best matching our vivid ombre tights in a heartbeat. Still, we have some inspiring outfits to show you:
Your outfits are quite colorful, but you don't think that colorful tights would fit into your style?
Pair your bright colored pieces with ivory and black ombre Virivee tights! These pictures speak for themselves:
 Are you into a more sober style?
You prefer classic black, white and gray, neutral pieces, because you think nothing can go wrong with those? Or you think vivid colors do not suit you? Let's show you something. You can wear these ombre tights out on a Friday night and even in the office without losing your classic style and elegance:
Have you ever noticed that colors have an effect on your mood and on your environment? Vivid and intense colors can fill you up with positive energy, so if you get up on the wrong side of the bed, try to sneak a lemon yellow or pink accessory into your outfit.
If you have any interesting experiences, don't hesitate to share it with us!
Follow our blog for more useful Virivee tips!